SciMonitor4
SCI Monitor 4 series
  HSCI-4.0-CANFD(Upper), HSCI-4.0-SENT(Middle), HSCI-4.0-LIN(Lower)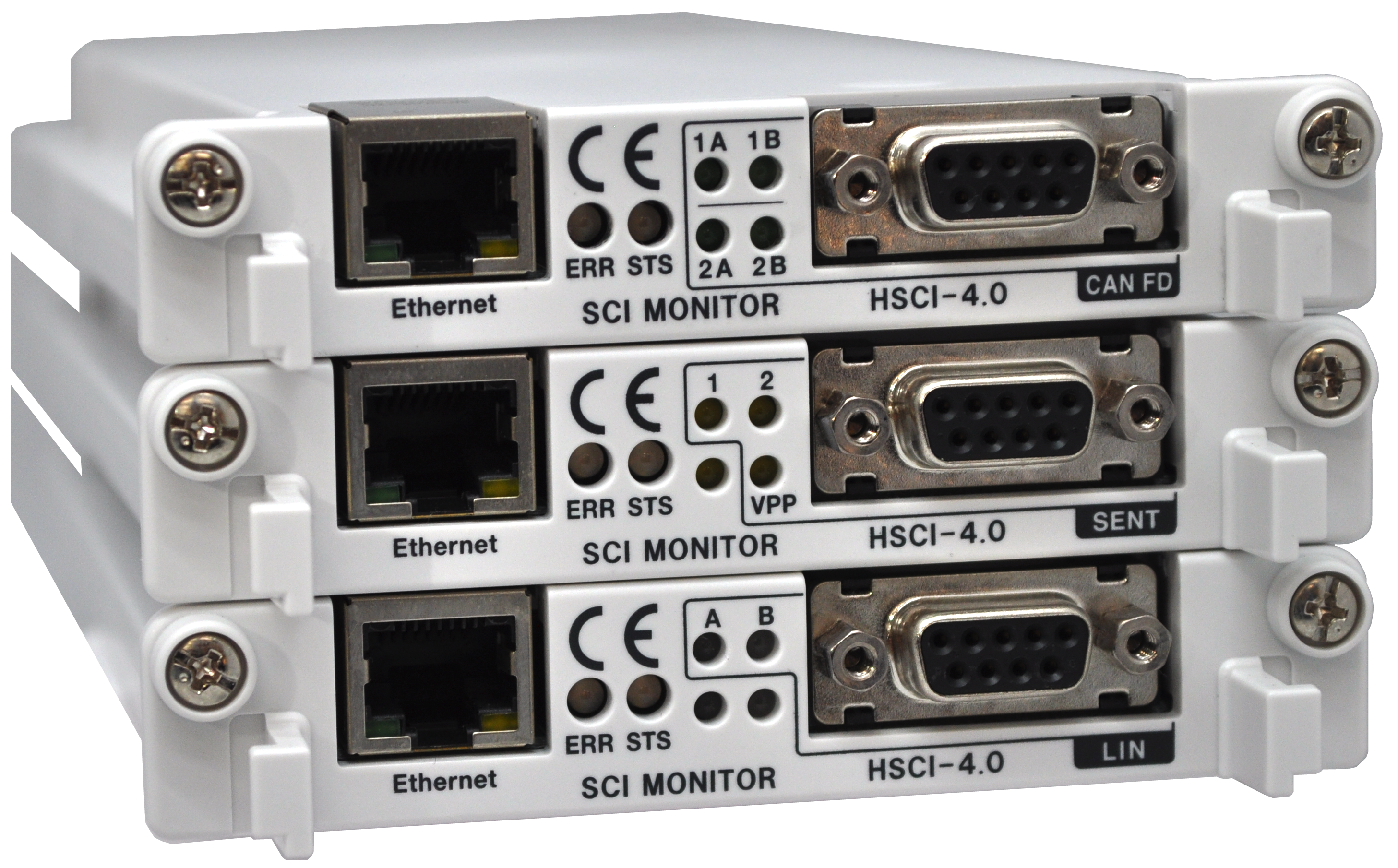 Example of mounting on HIOKI MEMORY HiCORDER.


 SCI Monitor 4 series catalog.
HSCI4_catalog_en_201910.pdf 


Feature
---
SCI Monitor 4 series is a communication inspection tool for in-vehicle electronic control units (ECUs).
Three communication units (CAN/CANFD, LIN, SENT) divided for each function.
High function and operability compatible with SCI Monitor 3 series.
Combination of units can be done freely as necessary.
CE mark conformity.
Model specifications
---
Specifications
SCI Monitor4.0-CANFD
SCI Monitor4.0-LIN
SCI Monitor4.0-SENT
HSCI-4.0-CANFD
HSCI-4.0-LIN
HSCI-4.0-SENT
Ethernet
(10/100BASE-TX) x1port
Com.
Connector
D-Sub 9pin x1
CAN/CANFD
(Isolated)
Com.ch
x2ch
-
-
CAN speed
125k〜1Mbps
-
-
CANFD speed
500k〜8Mbps
-
-
Standard and
Extended format
-
-
LIN
(Isolated)
-
LIN1.3/2.0/2.1
Conform
-
-
Master,Slave x1ch
-
-
Com.speed
2,000~20,000bps
-
SENT
(Isolated)
-
-
Complete conforms
to SAE J2716 SENT
-
-
SENT in x2ch
SENT out x2ch
VPP
(Isolated)
-
-
VPP out
OUTQA in/out
Indicator
CAN(4),STS,ERR
LIN(2),STS,ERR
SENT(2),VPP,STS,ERR
Voltage
Range
DC12V
Power is supplied from the HIOKI memory hicoder slot.
Or use a dedicated power adapter.
Power
Consumption
3.6VA(Max)
Operating
Temp.
5~40degC(There needs to be no dew condensation)
Dimension
(mm)
106(W)x19.8(H)x196.5(D)
Weight
Approx 250g
CE
Compliant
Safety: EN61010-1
EMC: EN61326-1 ClassA
Mounting
Slot
MEMORY HiCORDER main unit slot made by HIOKI.
Accessories
Operation-manual and PC side downloader soft included CD. (x1)
Option
Dedicated power adapter (HSCI-4.0-PWADP)
Using dedicated power adapter (HSCI-4.0-PWADP).
HIOKI MEMORY HiCORDER compatible with HSCI-4.0 series
---
【Current model as of Sep. 2019】

MR8847-51
MR8847-52
MR8847-53
MR8827
MR8740
MR8740-50
MR8741
MR6000
MR6000-01

【Discontinued model】

8847     (Discontinued on May 20, 2011)
MR8847-01(Discontinued on Dec. 28, 2015)
MR8847-02(Same as above)
MR8847-03(Same as above)








a:943 t:1 y:1